Millennials want to volunteer. They also want the companies they work for to volunteer, too. It's important for businesses to understand this generation's work habits, and how they can retain these job-hopping millennials. Millennials now make up the largest segment of the workforce.
So, how do you keep your millennial employees engaged and happy?
That is where team bonding events come in. Corporate bonding events connect your company to a charity while also building and strengthening relationships within your team. 78 percent of millennials would rather do community work within a group or a national corporate volunteer day than independent service projects, according to a report from The Millennial Impact.
Millenials don't want to work... for just anyone.
It's all about integration, where work is no longer separate from personal values and goals. It's give and take where both the company and the employee have to put effort into maintaining one anothers goals and well-being.
Here is an example of not-just-anyone
Look at Telus, where employees are actively involved in local, grassroots charities in their own communities. They're winning all the best employer awards while also helping the community - now that's value alignment.
A snippet from an article Telus has written about employee retention and the 'Three ways social responsibility in the call center impacts your bottom line', reads: "From an employee retention perspective, we've seen noticeable drops in annual attrition since implementing our CSR programs. While many factors are at play, we believe CSR is a key contributor to employee engagement and inspires our agents to stay working in our centers."
Ready to connect with your employees?
Community service can take on the form of many things, from marathons to building homes. To keep the fun going and ensure an energized atmosphere, it is best to hire a corporate team event and program company, such as Teambonders, that will work alongside your goals and company structure. This way, you can focus on interacting and connecting with your millennial employees, and have the host do all the work.
Here are three great charity bonding events that bring your team together: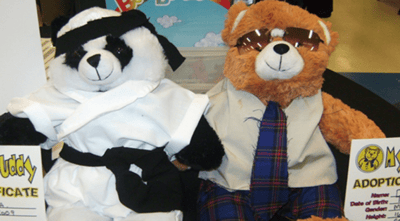 1. Bonding for a Cause: Building a Bear - Create something cute and cuddly to warm your heart and the heart of someone in need. Your team will be challenged to design, make and decorate a huge variety of stuffed animals and clothing; all for children that can desperately use a bit of hope and love in their lives. Beneficiaries can include hospitals, toy drives, charities and local primary schools.
2. Bonding with the Stars - Roll out the red carpet and mind the paparazzi! Between your world-renowned team and a special guest or two, it's going to be an a star-studded event! Whether it's a VIP speaker to motivate or entertain the group, or a fully-interactive celebrity appearance for a fun or charitable cause, Teambonders is proud to offer accessibility to wide variety of special guests – to suit any corporate event. The possibilities are endless and are only limited to your imagination! Please contact us for a complete roster of current and retired professional sports personalities and celebrities.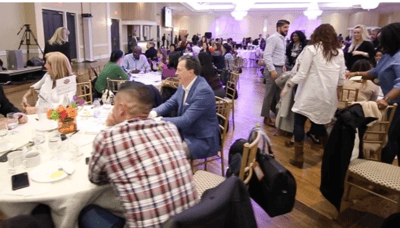 3. Classic Game Shows: Pursuit of Knowledge - We've put a new spin on an old classic. born from the classic board game, the categories are Geography, Sports & Leisure, Arts & Literature, History, Entertainment and Science & Nature, but we're taking this game to the next level. Work with your team to collect as many pieces of pie as you can and show everyone who reigns supreme in the Pursuit of Knowledge.
Becoming involved in a charity helps your company be involved in employees lives
We spend a large portion of our lives at work, surrounded by co-workers and supervisors. It is important to make the experience of working for a company enjoyable. By providing younger employees a chance to get involved in charity, while also creating long-lasting relationships with their peers, helps your bottom line. Just like customers, it is easier to keep an employee than to find a new one.
Get more information about holding a fun-filled Teambonders activity as part of your corporate social event, business meeting, or conference contact us today!