Depending on your location, spring's weather can be a little unpredictable to say the least and it is hard to plan outdoor activities much in advance; however the same cannot be said about the summer, the warm sunny weather makes a perfect season for holding a team building exercise or event outside.
So, what are the benefits of having a team bonding event in the summertime? For starters your staff will feel energized, get some fresh air, the warm weather will contribute to everyone enjoying themselves more, and the vitamin D will raise spirits (so they say!).
Here are three exciting and fun programs we offer that you can host this summer. Hand out the sunglasses and baseball caps, and pick an activity your team will warm up to.
1 - The AppMazing Race
One of our most popular events throughout the year, but especially during the summer, the AppMazing Race is a high tech program that sets up a dynamic day of challenges and lasting memories for your team. We have adapted our hit game to be played anywhere, by anyone, regardless of technical ability. The AppMazing Race blends features of ScappVenture Hunts together with the excitement of the hit TV show, the Amazing Race.
Teams up to 10 compete in this exciting and fast paced adventure that helps create team synergy, communication skills and a more engaged working environment. We recommend a minimum of 3 hours be set aside for this masterpiece of an experience.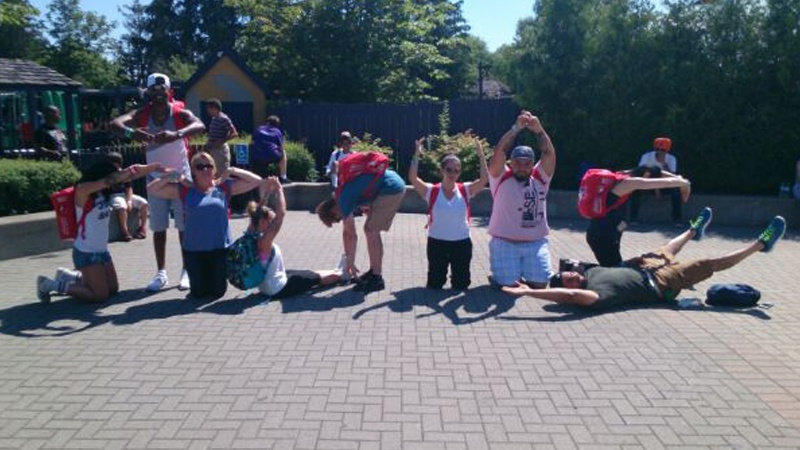 2 - Scappventure Hunts
Do you love the idea of an outdoor scavenger hunt? Your team will too! Scappventure Hunts, is an action-packed, customized scavenger hunt that will especially delight your millennial staff. Our high-tech software makes running the event seamless, from the GPS tracking, to live scoreboard updates, to interactive team chats and more! Your custom team building event can be tailored to be played anywhere on the globe, so you can challenge co-workers, peers and bosses in either the same city, or in another country simultaneously.
At the end of the scavenger hunt program, you get copies of your photos and videos from the day, wrapping up the perfect outdoor event and providing souvenirs everyone will want to see.
3 - Corporate Olympics
Everyone can enjoy and get involved with our Corporate Olympics activity. You don't have to be Phelps or Bolt to have a great day out in the sunshine! We start the event with our famous custom Olympic Opening Ceremonies, and we follow that with a blend of some "out of the ordinary" tasks, strategy games, mind bending problem solving, and very light physical challenges.
With dozens of absolutely unbelievable Olympic combinations, teams compete against each other (and the clock), vying for a spot on the podium and to go down in office history!

Teambonders customized programs promote an all-inclusive collaborative atmosphere, and our events are designed to require your whole team to work together to solve a multitude of fun challenges.
The summer is a great time to hold a unique event that will be entertaining, engaging and get people enjoying each others company.
We're a leading provider of team buildings events in North America, and we would love to talk to you about your event. Whether large, such as a national sales conference, or for a smaller office gathering - we have some amazing activities, games, and challenges that will rocket you to 'event planning' stardom!