The holidays are fast approaching which means you are probably trying to find that perfect event for you and your colleagues. You know the one we mean – exciting, unique, professional, in the spirit of the season and something that everyone can enjoy!
It can be a daunting task!
Luckily, we have a selection of programs that are exactly what you need to treat your team and spread some cheer.
Our Bonding for a Cause events are a great way to improve your team's work skills while having fun, and they provide a rewarding opportunity to give back to your community.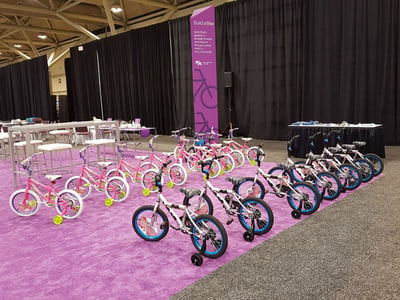 Bonding for a Cause: Bicycle Building
Great for groups of 6 to 600+ people, our Bicycle Build Program is everything you need to host an amazing corporate event this holiday!
A true 'Corporate Social Responsibility' masterpiece, teams will work together to build bicycles that will get donated to a charity of choice. The goal of this event is to have fun as a group, and learn to work together doing something most people have no experience in. It's a perfect activity for the gift-giving season!
Bonding for a Cause: Toys for Tots
You only need 2 hours to make a difference with this Teambonder's activity!
With our Toys for Tots Program you and your team will create and construct quality toys for children.
We provide everything to execute this great team event, and when you're all done, your creations are donated to your cause of choice. If your organization doesn't already have a specific cause selected, we can help you to choose!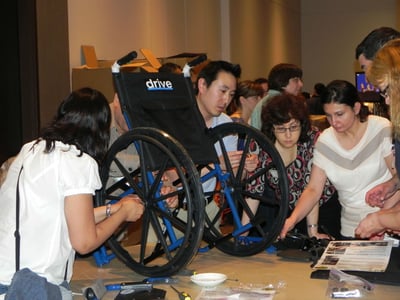 Bonding for a Cause: Wheelchair Building
Nothing will leave a warmer feeling in your heart than knowing that your organization helped those in need.
Our wheelchair build is perfect for groups 6 – 1000+ and takes 2 to 3 hours. Your teams will build fully-functioning wheelchairs that will be donated to a hospice, senior's residence, or care-giving organization of your choice.
As with all our programs, our skilled facilitators are always on hand to help, and are as engaged in the activity as the teams would like.
Bonding for a Cause: Teddy Bear Building
Create something cute and cuddly that is sure to bring a smile.
Your team will be challenged to design, make, and decorate a variety of stuffed animals and clothing; all for children that will appreciate a teddy bear hug. Once you have created your teddy bears, your organization can choose to donate their bears to hospitals, toy drives, charities, and/or local primary schools.
What could be a better way to spend the holidays (or any time of year) than showing your company sprit and giving back at the same time?
To find out more about our Bond for a Cause Programs, contact us today! We are always ready to help clients select programs and assist with planning. We look forward to making your next social event highly successful, memorable and truly rewarding.